---
Regional Happenings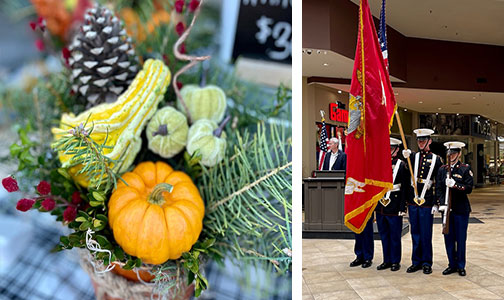 Regional Happenings Autumn 2023
By CML Staff
The very BEST of the season is right here in the High Country and surrounding foothills! In addition to the fall festivals featured on the previous pages, be sure to check out the many opportunities and events related to local art, music, food and holiday-themed adventures — the choices are nearly limitless!.
Arts and Crafts Events
Art in the Park – Outdoor art is at its best in downtown Blowing Rock. Don't miss the final 2023 event on Saturday, October 7, from 10 a.m. to 5 p.m., rain or shine. Enjoy arts and crafts from award-winning and acclaimed artisans, jury-selected each year. Pick up gifts for everyone on your list, and add works to your own personal collections, including functional beauties like furniture, cutlery, and wearable art. https://blowingrock.com/artinthepark/
Spruce Pine Potters Market – The Annual Spruce Pine Potters Market takes place this year on Saturday and Sunday, October 14 and 15, from 10 a.m. – 5 p.m. at the historic Cross Street Commerce Center, 31 Cross Street, in Spruce Pine, NC. Sponsored by the Spruce Pine Potters Association (SPPA), the event showcases the work of 27 artists from Mitchell and Yancey counties who have established studios and made this area home. The ceramic work seen in this show represents a wide range of aesthetic and stylistic interpretations, ranging from functional to sculptural pieces, allowing many choices for visitors. Check out a complete list of participating potters at www.sprucepinepottersmarket.com
Turchin Center for the Visual Arts – Celebrating 20 years, the Turchin Center for Visual Arts (TCVA) continues to host a variety of events as they recognize this important milestone. Now through November 4, special art exhibitions include Memento Mori: Death and the Art of Living (Larassa Kabel); and Circular Solutions: CENTER Award+Grant Recipients 2021 & 2022. Through December 2, you'll have an opportunity to explore the Passage/Time Pieces exhibition. On the first Friday of every month (excluding January), TCVA is open late as part of the Downtown Boone Art Crawl. Residents, visitors and the Appalachian State University community are invited to TCVA to experience the exhibitions featured in its six galleries. Now through May 2024, seize the opportunity to walk through the App State campus and view the participants of the 37th Rosen Sculpture Competition and Exhibition. For a closer look at more Turchin Center events this fall, visit tcva.org.
Beech Mountain Holiday Market – On Saturday, November 25, grab your Santa satchel and head over to the Fred & Margie Pfohl Buckeye Recreation Center for the annual Beech Mountain Holiday Market, running from 10 a.m. to 4 p.m. Browse through local arts and crafts to find the perfect gift for those special some-ones. Bring the kids and enjoy a variety of holiday-themed activities. Beech Mountain Parks & Rec hosts this annual event, located in the gym at 1330 Pine Ridge Rd. Beech Mountain, NC. For additional details, call 828-387-3003. Beechrecreation.recdesk.com
Holiday Happenings
Tweetsie Railroad Presents Ghost Train® – All aboard for this popular fall family tradition, beginning Friday, September 22, and continuing every Friday and Saturday night through October 28. During Tweetsie Railroad's Family-Friendly Halloween Celebration, the theme park transforms from the Wild West by day to a Ghost Train at night. Younger children will love the dance parties, trick-or-treat stations, themed photo opportunities, and the Palace Spooktacular Show. Braver kids and adults will enjoy the scary night-time journey on the Ghost Train, walking through the hallowed halls of the Haunted House and exploring the murky Freaky Forest. tweetsie.com
Beech Mountain Halloween "Trail or Treat" and Haunted Trail– On Friday, October 27, join in on the fun at Buckeye Recreation Center for Beech Mountain's Annual Halloween Party and Haunted Trail. The trail or treat and Halloween party will run from 6-7 p.m. and the "Haunted Trail" is open until 9 p.m. (after 8 p.m., the Haunted Trail is recommended for ages 8+). For more info, call 828-387-3003 or visit beechrecreation.recdesk.com.
The Blowing Rock Halloween Festival – On Saturday, October 28, join Blowing Rock Parks & Rec for tons of fun with a full afternoon of spooky activities. From downtown trick-or-treating to the famous Monster March, this is a hugely popular Halloween event for kids of all ages. The fun begins at Memorial Park, located in the middle of downtown, and all activities are free. For more information and a complete schedule of festival events, visit blowingrock.com/halloween, or call 828-295-5222.
Seven Devils Trunk or Treat – Come enjoy some fun and safe Trunk or Treating on Monday, October 30, 5-7 p.m., at The Park at Seven Devils, located at 157 Seven Devils Road. The community will give out both candy bags and candy! Bring children 16 and under for a spooky good time! Visit sevendevils.net or call 828-963-5343 for details.
Boone BOO!– Join the Town of Boone on Tuesday, October 31, from 5-7:30 p.m. for Boone BOO! The community and visitors are invited to stop by downtown Boone merchants for a safe, family-friendly trick-or-treating event. The stage will be set with special Halloween music streaming down King Street and larger-than-life Halloween inflatables lining the sidewalks. The central part of King Street will be closed (from Appalachian Street to Burrell Street) to accommodate trick-or-treaters and to make room for some surprise guests. More details at Joneshouse.org, or 828-268-6280.
Honoring Veterans at Hickory Ridge History Museum – Hickory Ridge History Museum, located at Daniel Boone Park in Boone, NC, hosts this year's special "Veterans Day" event on November 4 (the Saturday prior to Veterans Day), noon to 2 p.m. The Museum provides a look back at High Country history, and showcase 18th and 19th century cabins that reflect High Country heritage. Guests can roam from cabin to cabin and see how people lived, including Daniel Boone himself. The museum is open through November 11 for guided tours on Tuesdays – Fridays at 10 a.m., with the last tour time at 3 p.m. Tours last approximately 45 minutes. On Saturdays the museum is open for self-guided tours from 10 a.m. until 2 p.m. Find out more details about special events and museum tours at horninthewest.com/museum or in-person at 591 Horn in the West Drive, Boone, NC 28607.
Veterans Day MOAA Ceremony in Boone – The Military Officers Association of America (MOAA) is a non-profit veterans' association dedicated to maintaining a strong national defense and to preserving the earned entitlements of members of the uniformed services and their families and survivors. The High Country Chapter of the MOAA serves Avery, Mitchell and Watauga counties, and has been awarded the MOAA 5-Star level of Excellence Chapter recognition.
In honor of Veterans Day on Saturday, November 11, MOAA hosts an annual Community Veterans Day Celebration, traditionally held at the Boone Mall. Hundreds of members of the High Country community pay tribute, and the Watauga Community Band, along with special guest speakers, make it a truly memorable event. Visit hccmoaa.org for times and additional details.
Western Youth Network's 9th Annual Festival of Trees – Celebrate the season and support Western Youth Network (WYN) by visiting and bidding on more than 100 decorated trees and wreaths displayed across the High Country! Designers will decorate and place trees in area businesses and retail locations in Watauga, Ashe and Avery counties. The festival takes place November 15-30.
View in person or online and bid for these beautiful creations—many of which are loaded with gift certificates, goodies and gifts. The auction for the trees and other items will close at 8 p.m. on Thursday, Nov. 30. The Festival of Trees also includes wreath making workshops on Monday, November 27 (registration required), a Hot Chocolate Social at the Watauga Recreation Center on Tuesday, November 28, from 4-6 p.m, and a holiday movie night at the Appalachian Theatre on Wednesday, November 29. A map to trees, along with auction and festival details can be found on Facebook @ fot.wyn/.
Light Up Downtown North Wilkesboro – Light Up Downtown is an annual holiday lighting ceremony and street festival presented by the Downtown North Wilkesboro Partnership, held the Friday before Thanksgiving. This year's festival takes place on Friday, November 17, from 6 to 9 p.m. Visitors will enjoy crafts, food and gift vendors; plus, local shops throughout downtown will stay open late. Visits with Santa Claus, a marching band, dance troupes, live holiday music and so much more is offered at this family-friendly event. 832 Main Street, North Wilkesboro, NC 28659, www.downtownnorthwilkesboro.com.
Ashe County Holiday Parade in West Jefferson – Head to downtown West Jefferson, NC, for their annual holiday parade! Always a great time, this year's parade will be held Saturday, November 18, from 3-5 p.m. Local bands, dance groups, churches, businesses, fire/rescue trucks, police cars and more participate in the parade each year. And of course, Santa will be there to meet and greet the kids! Known by many as "The Christmas Tree capital of the USA," Ashe County's parade and other related holiday events celebrate tree growers and our native Fraser firs. Find out more details at ashechamber.com.
Christmas in Blowing Rock – Attention families: be sure to catch this annual two-day event, with carnival games, visits with Santa, hayrides, live music, and a tree-lighting to kick off the event on Friday, November 24. The Blowing Rock Christmas Parade starts up on Saturday, November 25, at 10 a.m. The Christmas Parade, complete with decorated floats, animals, and festive parade walkers, makes its way down Main Street. Enjoy additional free Saturday entertainment, including music, games, crafts, hayrides, gingerbread house building, and Santa sightings. All events take place in Memorial Park, right on Main Street in downtown Blowing Rock. For more information on all of Blowing Rock's autumn and winter happenings, including the annual Winterfest Celebration in early 2024, call 828-295-5222, or visit www.blowingrock.com.
Banner Elk's "A Small Town Christmas" – Enjoy a full weekend of traditional holiday activities at this popular annual holiday event. "A Small Town Christmas" will take place at various locations in downtown Banner Elk, NC, the weekend of December 1 through 3, beginning Friday evening with the lighting of the town tree and a holiday play performed by Ensemble Stage Theatre at the Historic Banner Elk School. Saturday's events begin early in the morning with a 5K run, breakfast with Santa, holiday fun at the Fire Station, ornament making, an arts and crafts market, cookie decorating, Christmas caroling with the choir, a Parade of Lights, train rides through the park, hot cocoa and so much more! All activities are within easy walking distance in this one-stoplight resort town in the Blue Ridge Mountains. On Sunday, visit one of many local choose & cut tree farms. Bannerelk.org, bannerelk.com, ensemblestage.com
Farms, Fields & Orchards
Apple Hill Farm – Apple Hill Farm is a unique mountaintop alpaca farm, home to nine different kinds of animals on 10 acres of mountaintop land. Open year-round to the public, the farm hosts fun and educational animal experiences, while the farm store offers a variety of products made from alpaca fibers, along with local books, jams and jellies, and more. On October 7, visitors can purchase a pass to view of the farm's twice-a-year angora goat shearing! And on October 28, visitors can join a "Spookley's Trick-or-Treat Tour," where a Tour Ghoul will share fun facts about the animals at each stop and safely distribute goodies for each child. This hands-on mini-tour also includes a reading of Spookley the Square Pumpkin. The Farm's annual Christmas celebration takes place November 17 – January 1, 2024; visitors can tour the farm decked out for the holidays, Wednesdays through Sundays (advance ticket purchase required). applehillfarmnc.com 
Corn Mazes & Pumpkin Patches – It's time to celebrate the ripening of pumpkins and corn! Our area farmers commemorate harvest time by welcoming families to pick out their own pumpkins and meander through mazes of towering corn stalks and hay bales. Here are just a few of the offerings in our area:
Ashe County Corn Maze and Pumpkin Festival (Jefferson, NC)– Beginning mid-September, the Ashe County Corn Maze comes alive! Your family can meander through the latest maze design, and pick and choose from a variety of decorative pumpkins, gourds, and sunflowers. Other activities include a pumpkin cannon, face painting, live music (on select Saturdays), pumpkin bowling, tractor hay rides, corn hole, inflatables, and more. Open Saturdays and Sundays throughout the season. Visit ashecountycornmazeandpumpkinfestival.com; located at 1332 NC Highway 16, Jefferson, NC.
Lantern Farm (West Jefferson, NC) – Lantern Farm sits directly on a beautiful stretch off the Blue Ridge Parkway in Ashe County. The Farm's "Halloweentime" event runs from mid-September to late October and includes a four-acre corn maze, as well as a hay maze. Take a leisurely stroll through Lantern Farm's pumpkin patch to find your ideal pumpkin. Enjoy fresh corn, drinks or other options at the food tent depending on seasonal availability. An assortment of pre-picked pumpkins will also be available, as well as other Halloweentime products. Tractor hay rides take place on select dates in October. For more event info, call 828-278-4489 or visit lanternfarm.com; located at Doe Meadows Drive in West Jefferson, NC. 
New River Corn Maze and Pumpkin Patch (Boone, NC) – Located on the historic Brown Family Farm beside the scenic New River, the New River Corn Maze is open Friday and Saturday from 10 a.m. until dark, and on Sundays 1 p.m. to dark through the fall season. Enjoy beautiful scenery, games and an amazing pumpkin patch! Visit newrivercornmaze.com or call 828-264-2986; located at 660 Laurel Gap Ridge Rd., near Boone, NC.
Harvest Farm Corn Maze & Pumpkin Patch (Valle Crucis, NC) – Harvest farm is located near the Original Mast General Store in Valle Crucis, surrounded by stunning mountain views. Now open for the season, the farm has a seven-acre corn maze, a large pumpkin patch, and an assortment of early fall flowers that you can cut in the field and take home. For tickets and hours, visit harvestfarmwnc.com; located at3287 NC 194, Valle Crucis, NC.
Orchard at Altapass – The Orchard at Altapass is one of the most visited locations on the Blue Ridge Parkway. Altapass aims to preserve the history, heritage and culture of the Blue Ridge Mountains; protect the underlying orchard land with its apples, wetlands, butterflies, and other natural features; and educate the public about the Appalachian experience. This fall, head to the orchards to pick your own heirloom apples. Take a "Heyride" through the orchard and travel back in time. You can also shop for locally made gifts in the general store, enjoy music and dancing in the pavilion, and much more. The Orchard at Altapass is open
10 a.m. to 5 p.m., Wednesday-Sunday through October 29. www.altapassorchard.org
Choose & Cut Tree Farms – Beginning in November of every year, families drive to the High Country to choose their favorite Fraser firs, white pines, and other varieties of evergreens for decorating their homes during the holiday season. You'll find dozens of tree farms in Avery, Watauga, Ashe, Alleghany, Burke, Mitchell and Yancey counties in NC, and bordering counties in TN and VA. Many of these farms offer hayrides, hot chocolate/hot cider, petting zoos and visits with Santa. Pick up your "North Carolina Choose & Cut Memories" guide at visitors' centers and retail locations throughout western NC, or visit the NC Christmas Tree Association's website for their online guide to local Choose & Cut Tree Farms at www.ncchristmastrees.com.
Autumn Farmers' Markets – Our local Farmers' Markets continue to deliver the season's freshest vegetables, meats, cheeses, eggs, baked goods, jellies and jams, and a wide assortment of arts and crafts. Enjoy hot beverages and a variety of entertainment. And most important, get to know your local farmers! Please be sure to confirm dates/times with your markets of choice prior to scheduling a trip.
Abingdon, VA Farmers Market
Saturdays 8 a.m.-1 p.m., now – Oct., and 10 a.m.-noon Nov. through Dec. 23;
Tuesdays 3-6 p.m. through the end of September
The corner ofRemsburg Dr. and Cummings St. in downtown Abingdon
Alleghany, NC Farmers Market
Saturdays 9 a.m.-1 p.m., now through the end of October
Crouse Parkin downtown Sparta, NC
Ashe County Farmers' Market
Regular market, Saturdays 8 a.m.-1 p.m. now through October 28;
Holiday markets on Nov. 18, 24, 25 and Dec. 2, 10 a.m.-2 p.m.
108 Backstreet, West Jefferson, NC
Beech Mountain Farmers' Market
First Fridays 2-6 p.m., now through the end of October
Public Parking Lot across from Fred's General Mercantile
Lansing Park Farmers' Market
Fridays 1-6 p.m. until November
Lansing Creeper Trail Park, 114 S Big Horse Creek Rd, Lansing, NC
Avery County Farmers' Market
Thursdays 4-6:30 p.m., now through Oct. 19
Historic Banner Elk School Parking Lot
185 Azalea Circle, Banner Elk, NC
Watauga County Farmers' Market
Saturdays April through Oct, 8 a.m.-12 p.m.
Saturdays in November, 9 a.m.-12 p.m.
591 Horn in the West Dr., Boone
King Street Farmers' Market, powered by Blue Ridge Women in Agriculture
Tuesdays 4-7 p.m. through the end of October
126 Poplar Grove Connector, Boone, NC
Blowing Rock Farmers' Market
Thursdays 2-6 p.m., through the end of October
379 Sunset Drive, Downtown Blowing Rock, NC
Johnson County Farmers' Market
Saturdays through October 28, 9 a.m.-12 p.m.
Ralph Stout Park in Mountain City Mountain City, TN
Wilkes County Farmers' Market
Saturdays 7:30 a.m.-12 p.m., Tuesdays 3:30-5:30 p.m., through October
Yadkin Valley Marketplace in downtown N. Wilkesboro
Morganton Farmers' Markets
Saturdays 8 a.m.-12 p.m., through October
300 Beach St., Morganton
Wednesday Mini Market, 11 a.m.-2 p.m., through October
111 North Green St., Morganton
High Country Food Hub Order fresh, local foods online and pick them up at one of six convenient locations throughout Ashe, Avery, and Watauga counties. www.highcountryfoodhub.org
And Other Happenings…
Emerald Village – Emerald Village in Little Switzerland, NC, is a group of gem, mining, and historical attractions nestled deep in the Blue Ridge Mountains, just off the Blue Ridge Parkway and within an hour's drive of Boone and Blowing Rock. While there, you can explore the N.C. Mining Museum and take an underground tour of the historic Bon Ami Mine. For an "out of this world" experience, Emerald Village offers night-time underground mine tours that unlock vibrant hidden colors available only under ultraviolet light, commonly called black light. The effect, underground at night, is stunning! Black light tours are offered the following Saturdays: Oct. 7 (at 8 p.m.), Oct. 14 (at 7:45 p.m.), and Oct. 21 (at 7:45 p.m.). Each tour begins at dark, and advance online reservations are required at emeraldvillage.com, or by calling 828-ROK-MINE (828-765-6463). Emerald Village is open for daytime tours every day from 10 a.m. – 5 p.m. through October 31.
Liberty Mountain at Kings Mountain, NC – Liberty Mountain, by Playwright Robert Inman, depicts the dramatic events leading to the October 7, 1780 Battle of Kings Mountain. The hardy pioneers who tamed and settled this area fought and won this crucial battle that turned the tide of the Revolution and led directly to the British surrender at Yorktown a year later. The story of these pioneer Patriots is told in dramatic fashion in the stage play Liberty Mountain, on tap for its seventh season in Kings Mountain, NC. Performances are presented on Fridays, Saturdays and Sundays including September 22, 23, 24, 29 and 30, and October 1, 6, 8. Performance times are Friday at 7:30 p.m.; Saturday at 3 and 7:30 p.m.; and Sunday at 3 p.m. Tickets are available at www.libertymountaindrama.com or by calling the Kings Mountain Little Theatre at 704-730-9408.Fraser's Ridge Homecoming – In its fifth year, Fraser's Ridge Homecoming, held on October 12-14, is an Outlander-themed celebration of the history of Jamie and Claire Fraser's NC backcountry wilderness. The Homecoming is a unique three-day, immersive event held at Leatherwood Mountains Resort in Ferguson, North Carolina. With historically accurate workshops, presentations, encampments, music, dancing and much more, Homecoming attendees will be taken back in time to Jamie & Claire's "home" on The Ridge. Learn and experience 18th-century NC history and form lifelong friendships with other Outlander fans. Tickets available at frasersridgehomecoming.com, while they last.
---
Find more happenings on our TIDBITS page>>
---
Have an event for us to consider listing in a future issue of CML? Email your press release to CML's editor at [email protected].
—
Many other events will take place here in the High Country throughout the season. Some of the best resources for event listings and schedule changes are our local Chambers of Commerce and Tourism Development Associations. Be sure to visit the following websites before planning your visit to take advantage of all that our region has to offer.