Publisher's Note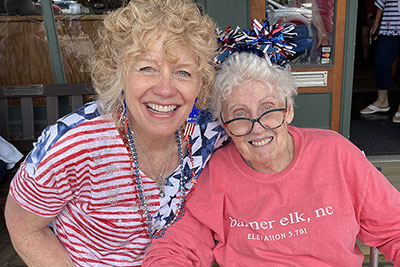 As I reflect on this autumn season, I am reminded of how much my mom, Mary Munn, loved fall.

"Babs, I absolutely love watching the changing of the leaves and how each one drifts down to the earth. Do you remember how you and your brother would pile up the leaves and jump 'til your hearts content?"

Mom couldn't wait to watch football and of course cheer on her favorite teams, App State and the Tarheels. She reveled in the changing seasons and was a bit cold-natured, so she welcomed the warmth and light our woodstove provided as she sat nearby enjoying a steaming mug of coffee and her favorite pastry. On warm fall days, Mom would bundle up in her much loved Mast Store sweatshirt and sit outside in her rocking chair to enjoy the fall colors—the mums and pumpkins set around the porch—and, with her eagle eyes, watch as leaves tumbled to the ground.

This year, as I see the trees turn their brilliant colors and drop to the earth below, only to be renewed again in spring, I will be reminded of Mom's bright, colorful personality to the very end at 88 years old. I knew before her passing in July that she, too, would be renewed. She was surrounded by family, friends, and the amazing support, care, and love of the entire staff of Life Care Center in Banner Elk and, in her final weeks, she received hospice care from the incredible team at AMOREM. I cannot say enough words of praise and gratitude for these amazing folks and organizations.

Mom taught me more in her final days than I can even express. Even when she couldn't walk, she loved my little dance and song routines and delighted in our conversations. She had a hearty laugh that was contagious. "Remember when?" We loved telling old stories from the past about our silly antics.

"Babs, what is that bird on the feeder?" I looked in the Audubon book and found our little visitor, the Rose-breasted Grosbeak. In the process of flipping through that amazing guide, I was reminded of the importance of knowing each bird's name and enjoying its beauty.
Mom taught me to see deeply into everything around me. She noticed the loving hugs and smiles of the nurses and CNAs at Life Care and would talk about how their cheerful spirit uplifted her day. She would comment on the American flag flying so proudly outside the facility and remark on our freedom and the sacrifices made by so many—as reflected in Dad's military service.
Mom was appreciative of every gift, of every day she lived. She had a way to make even dire situations look like a silver lining had just popped into view. Mom was a woman of strong faith, gregarious, positive, and cheerful, encouraging me every step of the way in creating CML Magazine 26 years ago. She defined perseverance, mixed with a dose of laughter and levity. Mom knew how to have fun, no matter the season of life.
The change of seasons reminds us that beauty lives on. Mom's way of always seeing the best in every situation, and in everyone she met, inspires me to emulate that characteristic. So, with this colorful season upon us as we peer toward winter, I will be reminded of Mom and her infectious, loving spirit — and of spring's renewal. With deep gratitude,
~ Babette