---
Nature & Outdoors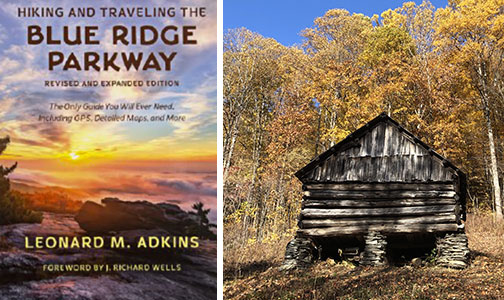 Blue Ridge Parkway News: Doughton Park Recreation Area
By Rita Larkin
Spanning an impressive 6,300 acres, Doughton Park Recreation Area is a jewel on the Blue Ridge Parkway with the atmosphere of a quiet natural retreat within the larger bustling national park. Thanks to nearly 30 miles of trails, two historical cabins, mountain overlooks, areas for picnicking and camping, The Bluffs Restaurant, a gift shop, and educational programs, the park holds a day trip (or weekend) for all types of explorers, including history buffs, families, and experienced hikers.
History Buffs
Cabin fever: Two 19th century cabins pass down chapters of the area's history. Brinegar Cabin is easily accessible from the Parkway and showcases early farm life in Appalachia. On weekends from spring through autumn, park rangers host interpretive demonstrations at the cabin, such as spinning. To delve deeper, stop by the gift shop to pick up a copy of Brinegar Cabin: A Historic Resource, which includes information from members of the Brinegar family.
From Wildcat Rocks Overlook, visitors can spy Caudill Cabin, a one-room log home that sits far below in Basin Cove. For a closer look, adventurers can hike the Basin Creek Trail (8.2 miles roundtrip) and step inside the cabin, one of the few structures that survived a devastating flood in 1916 that claimed lives and structures.
Paying respects: As the Parkway was constructed across the mountains, it inevitably passed by the final resting places of early mountain settlers. In fact, there are more than 50 cemeteries along the Blue Ridge Parkway, and Grassy Gap Cemetery is one of the largest. Visitors can stop to admire the peaceful setting that surrounds the cemetery with its 65 graves that date back as far as 1875.
Parkway champion: More recent history includes the renaming of the area, once known as Bluffs, in honor of the late Congressman Robert L. Doughton who was an advocate for the creation of the Blue Ridge Parkway in the 1930s. A plaque near Wildcat Rocks Overlook details his significant contributions.
Families
Activities galore: To nurture a love for the outdoors, stop by the Kids in Parks kiosk at the gift shop to pick up free activity brochures (in Spanish and English) designed to make your excursions even more fun. Children can use the guides to discover hidden gems of nature that are often overlooked and try out animal-inspired exercises like hummingbird hand-swings and lizard pushups. Kids can also become National Park Service Junior Rangers at the visitor center.
On the trails: For a leisurely hike that promises wildflowers and views of grazing cows, take the Bluff Mountain Trail near the old Bluffs Lodge. Many folks make the hike easy by only following the trail through a meadow to the rocky outcropping, opting to skip the entire 7.5-mile route.
Time to eat: At The Bluffs Restaurant, children can choose from chicken tenders, a mini burger, and a vegetable side plate. For dessert, try the hand-dipped ice cream or cobbler. If a furry friend is part of your family, you're in luck. Dogs are welcome at the picnic tables outside the restaurant.
Hikers
Terrific trekking: Hikers who are out for a serious challenge can traverse a nearly 17-mile loop by stringing together the Flat Rock Ridge, Bluff Mountain, and Cedar Ridge trails. The trails are mostly moderate in difficulty and pass Brinegar Cabin, the park campground, The Bluffs Restaurant, and Basin Cove Overlook. For a free trail map with additional routes, visit the visitor center and gift shop.
Gear & guides: The gift shop offers walking sticks and hiking medallions, water bottles, mini-backpacks, and rain coats to make your hike more comfortable and fun. It's also a great place to pick up detailed guides, including the book Hiking and Traveling the Blue Ridge Parkway, by Leonard M. Adkins.
Join the pack: If you'd prefer to hike with new friends, link up with the Alleghany Sparta Trail Association for a scheduled hike. They often trek in the park and even offer trail maintenance days so people can give back to the beautiful park. Visit spartatrails.org to learn more.
And no matter which itinerary suits you, be sure to get your National Parks Passport "canceled" with a limited edition "Destination Doughton" stamp at the visitor center and gift shop.
To learn about more activities at Doughton Park, visit DestinationDoughton.com.
Getting there
Doughton Park is located at milepost 238-246 on the Blue Ridge Parkway near Sparta, N.C. Although the Parkway is closed to the north to undergo much-needed repaving and to the south for a bridge project, visitors can still reach this natural wonderland via a detour along NC 18. With less through traffic, Doughton feels even more like a tranquil escape. Visit BluffsRestaurant.org for a detour map.
Acreage
Doughton Park is the largest recreation area on the Blue Ridge Parkway. Here is how it compares:
Doughton Park Recreation Area = 6,300 acres
Julian Price Park = 4,200 acres
Moses H. Cone Memorial Park = 3,500 acres
Blue Ridge Parkway total = approximately 93,400 acres