---
History & Nostalgia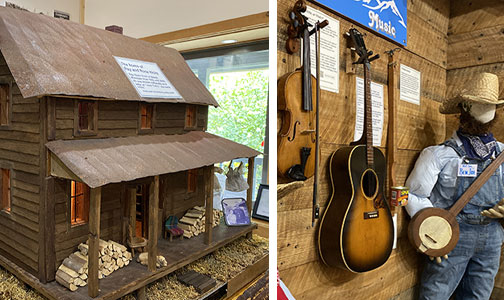 Beech Mountain Music Exhibit Celebrates Appalachian Heritage
By Karen Rieley
The Beech Mountain History Museum recently opened its newest exhibit spotlighting the unique musical heritage of the mountain. "Beech Mountain Music" provides visitors with an interactive and engaging journey through the history of music on Beech Mountain.
Visitors will be transported to a bygone era that continues to this day in updated forms. Authentic musical instruments used are prominently displayed, offering a glimpse into the melodies that echoed across the mountain in the 19th and early 20th centuries. These instruments serve as a testament to the enduring musical traditions cherished by the community, as well as the skilled craftspeople who fashioned their own instruments. A "Spam-jo" or "Can-jo" on display also reveals the instrument-maker's incredible resourcefulness.
The exhibit shows how music influenced social life on the mountain, and proudly showcases the remarkable musical talents of the Hicks, Presnell and Proffitt families, who were at the center of life on Beech at the time. Family trees on display capture these talented individuals and illustrate how music was passed down across the generations.
QR codes accompany each instrument, enabling visitors to listen to the sounds they produce. The exhibit is further enhanced by the harmonious melodies of original mountain music playing softly in the background.
A dedicated kids table offers a hands-on experience with rhythm instruments used by children. These include spoons, washboards, and sticks, and provide younger visitors an opportunity to connect with the mountain's musical heritage.
As part of the oldest mountain chain in North America, the Blue Ridge Mountains were largely settled in the early 19th century by Scots-Irish, who brought with them a vibrant culture centered on family and rebellion and expressed through quilting, farming, arts and crafts. They also carried a rich tradition of storytelling and making music, particularly on the fiddle.
The Beech Mountain History Museum also recognizes the legacy of master storyteller and Beech Mountain native Ray Hicks. An audio station allows museum visitors to listen to Hicks spin his "Jack Tales," and there is a large replica of Ray and Rosa Hicks' home located in the museum.
As a young boy, Ray liked to sit by the potbellied stove in the front room and listen to his grandfather's tales. When he was about five years old, Hicks began telling stories himself. He credited his grandfather, John Benjamin Hicks, as his model and source for storytelling, although his grandmother, Julie, told tales as well.
Hicks quit school when he was 14 to work full-time as a farmer. When he was 26, he married his wife, Rosa. He and Rosa raised their five children in the two-story house in which Ray was born, built by his grandfather. Their children helped them raise cabbage, potatoes and onions, crops that Ray sold to the Mast General Store in Valle Crucis, NC.
While Hicks learned most of his "Jack Tales" from his grandfather, some of them are original. The tales are about the antics of a poor mountain boy, who might be described as an American cousin of the farm boy in "Jack and the Beanstalk" and "Jack the Giant Killer." Jack, a clever lad, served his mother and himself by outwitting thieves, giants, witches, ogres, wild hogs and robbers to win fame, fortune and love. Supernatural beings and magic often come to help him, and his role is often two-faced—the savior of imprisoned maidens in some tales, and a trickster and murderer in others.
Some have called his dialect the "purest" example of the speech of the Scots-Irish and English pioneers who settled in Appalachia in the 1700s and spoken during the time of Davy Crockett and Daniel Boone.
Edd Presnell was also raised in a musical family and community near Beech Mountain. He was particularly interested in woodworking. He first heard a dulcimer when his future wife, Nettie Hicks, came by with an instrument her father, Ben, had built. With help from his future father-in-law, Presnell made his first dulcimer in 1936.
Between the mid-1950s and mid-1970s, Presnell made more than 1,100 dulcimers. Nettie and he received the Brown-Hudson Folklore Award in 1974 for dulcimer making and woodcarving. In addition to making dulcimers, the Presnells hand-carved animals from wood, and they traveled around the region to fairs and festivals to sell their work, including at the North Carolina State Fair in Raleigh.
Edd Presnell's instruments are still found in the area and coveted by dulcimer enthusiasts and folklorists around the globe. He helped establish the Beech Mountain craft and instrument-building tradition.
Frank Proffitt likewise made significant contributions to American folk music. His most recognized performance was the version of the song "Tom Dooley" that inspired the Kingston Trio's well-known 1958 recording.
Collectors Frank and Anne Warner traveled to Beech Mountain in 1937 and met Frank Proffitt, among others. The Warners recorded Proffitt singing "Tom Dooley" and several other ballads, folk songs and tunes played on the banjo and dulcimer. Alan Lomax published "Tom Dula" in Folk Song USA, and eventually included it in his Folk Songs of North America. It was through a Lomax publication that the Kingston Trio found the song.
In 1961 Sandy Paton recorded Proffitt and several other Beech Mountain musicians, and he released albums on the Folk Legacy label. Proffitt started performing at college campuses and folk festivals, including the 1961 University of Chicago Folk Festival, the 1963 National Folk Festival, the 1964 World's Fair and 1964 Newport Folk Festival.
Frank's son, Frank Proffitt, Jr., learned many of his father's tunes and songs and performed them periodically after his father's death. Several of Frank Proffitt's songs in addition to "Tom Dooley" have become popular in folk circles, such as "Poor Man" and "Going Across the Mountain." Proffitt was also a craftsman, known for making mountain-style fretless banjos and mountain dulcimers.
Located at 503 Beech Mountain Pkwy, the Beech Mountain History Museum is an all-volunteer organization dedicated to sharing the rich and varied history of the mountain. The museum is free to visit and open from 1-4 p.m., every Thursday-Sunday, until October 22. For more information, call 828-387-HIST (4478).
---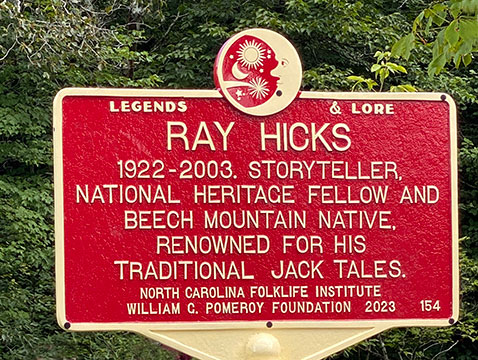 New Beech Mountain roadside marker memorializes Ray Hicks, Beech Mountain's greatest storyteller of all time
By Karen Rieley
The Beech Mountain Historical Society recently presented a new roadside marker along the Beech Mountain Parkway near the Beech Mountain Museum to honor the memory of Beech Mountain's very own "GOAT," Ray Hicks, world-renowned storyteller of "Jack Tales" and National Heritage Fellow. Hicks (1922-2003), a native of Beech Mountain, entertained people of all ages through many decades with traditional stories unique to Appalachia.
He didn't just make an impression on audiences, he also inspired other tale-tellers. In 1973, master storyteller Connie Regan-Blake met Hicks at the inaugural National Storytelling Festival in Jonesborough, Tennessee, and she maintains a friendship with his family to this day.
Regan-Blake, who is also the host/curator at www.rayhicks.com, was master of ceremonies for the August 27 dedication ceremony during which Hicks' marker was unveiled. Beech Mountain Historical Society President Pat Wright and town dignitaries joined Regan-Blake in dedicating the marker. August 29 would have been Hicks' 101st birthday.
The historical society was awarded a Legends and Lore Grant from the William G. Pomeroy Foundation to fund the cost of the roadside marker.
The Beech Mountain History Museum is open Thursday-Sunday, from 1-4 p.m., until October 22. Admission is free, with cash donations gratefully accepted.
Located at 503 Beech Mountain Pkwy, the Beech Mountain Historical Society is an all-volunteer organization that operates the Beech Mountain History Museum and is dedicated to sharing the rich and varied history of the mountain. –by Karen Rieley
(GOAT="Greatest of All Time")