---
Food & Beverage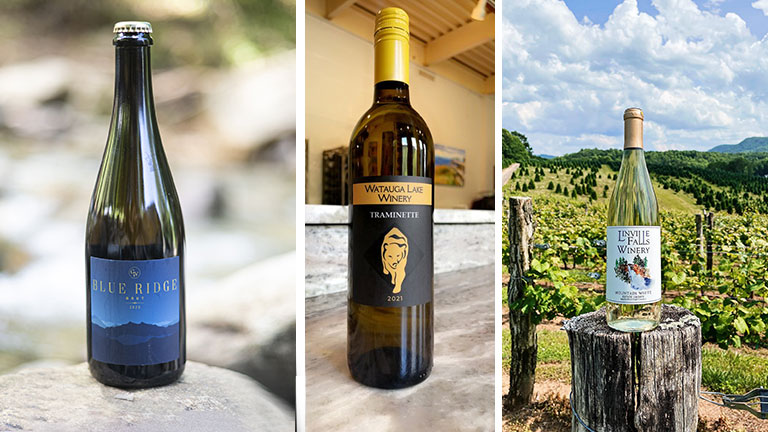 Unique Grape Varieties that Make High Country Wines so Flavorful
By Kim S. Davis
Because flavor involves sensory perceptions of both taste and smell, wines are the perfect platform for showcasing unique palate pleasing characteristics. The distinctive flavors in wines arise from a combination of the varieties of grapes that go into the wines, and where the grapes are grown. Wide ranging micro-climates allow specific varieties to either flourish or flounder, and talented wine producers from southern climates discovered that certain hybrid grapes make very flavorful wines.
Many wine drinkers recognize traditional Vitis vinifera varietals like Chardonnay, Sauvignon Blanc, Pinot Gris, Pinot Noir, Cabernet Sauvignon and Merlot. These European derived grape varieties are widely cultivated around the world for making wine. Southern wine drinkers and those who prefer sweeter wines are probably also familiar with the American native Muscadine and Scuppernong varieties that grow wild in North Carolina and are now cultivated for wine. However, there are some very unique hybrid varieties grown in the vineyards of the High Country American Viticulture Area (AVA) that contribute to our local wines' deliciously exceptional flavors.
There are fewer than 300 American Viticulture Areas (AVAs) in the U.S. and every area receives its designation because of specific characteristics that make the wines of each AVA unique to that AVA. The Appalachian High Country AVA was recognized as an AVA in 2016 and is one of only two multi-state AVAs. The High Country AVA is made up of vineyards from southern Virginia, eastern Tennessee, and western North Carolina, and all of our area vineyards and wineries are a part of this AVA.
While High Country AVA vineyards have commonalities, each is unique because they are located at different altitudes with varying climates. The special micro-ecosystems at each location support diverse growing conditions and varied soil types allowing different grape varieties to flourish. And while the varieties of grapes grown in the vineyards across the High Country AVA vary, rot-resistant grapes that thrive in short, wet, cooler growing conditions yield the best harvests.
One distinctive white variety found in the High Country AVA is Seyval Blanc, a French-American hybrid vine. Seyval Blanc consists of large clusters of small-berried white grapes, developed in France in the early 1920s by Bertille Seyve and his son-in-law, Victor Villard, while trying to create a disease-resistant grape. Another notable French-American hybrid grape lending its flavor to High Country AVA wines is Marechal Foch, a jammy, deep red grape that came to the U.S. at the end of World War II and is named after Marechal (General) Ferdinand Foch, a prominent French General during World War I. Because stringent European law does not permit the use of hybrid grapes in their wine-making, the vines were exported and are now grown outside of Europe, including in our primary High Country vineyards at Banner Elk Winery, Grandfather Vineyard and Winery, Linville Falls Winery, and Watauga Lake Winery's Villa Nove Vineyard .
Each of these wineries cultivates and incorporates Seyval Blanc and Marechal Foch in their wines in individualized ways. Beginning with the highest vineyard in the High Country AVA, Banner Elk Winery sits at 5,000 feet above sea level. Founders first planted these hybrid grape varieties in 2001 and they have thrived. Typically a more off-dry wine, the Seyval Blanc varietal from Banner Elk Winery tends to be drier because of the high altitude. Reminiscent of a Sauvignon Blanc but less citrusy and with greater minerality, the Banner Elk Seyval Blanc is best consumed young.
Banner Elk Winery also produces an award-winning Marechal Foch varietal, aged in French Oak barrels, that tends to cellar well. They have just released a new vintage Marechal Foch Reserve that is great with barbecue. The Marechal Foch is lower in tannins than many deep red varieties and performs well in the cold and wet climate of Banner Elk. Another notable hybrid grape grown at Banner Elk Winery is the Steuben. It was developed at Cornell University and is named after a county in New York. Steuben is a thick-skinned light pink grape that is used to make the Banner Elk Winery Rosé.
Just a few miles over the mountain is Grandfather Vineyard and Winery, situated at 3,300 feet above sea level. They also produce wines utilizing the Seyval Blanc and Marechal Foch hybrids but in very different ways. Some of their blends, particularly their sparkling wines, are made with Chardonel, which is a hybrid of Seyval Blanc. They also grow Marechal Foch to incorporate in some of their red blends.
Because of the vineyard's elevation and steeply sloping hillside, Grandfather Vineyard and Winery also has success with another flavorful French-American hybrid first developed in France in the 1930s as a Cognac grape. Vidal Blanc is able to withstand harsher winter weather and because of its high sugar levels, it is a great grape for bubbly. The winery recently received gold medals in the NC Wine Competition for wines blended with this grape. Along with Chardonel, Vidal Blanc is a foundation of their Blue Ridge Brut, and it is also included in their Sparkling River White and Sweet Sparkling Rosé. This early ripening hybrid is blended in many of their still wines as well, including the newly released Grandfather White made with Vidal Blanc, and Traminette, a University of Illinois-developed hybrid.
About twenty miles southwest at a similar elevation range of 3,200 to 3,500 feet, Linville Falls Winery cultivates both Seyval Blanc and Marechal Foch on their southern facing slopes. Seyval Blanc is featured in their Rose, the Trillium white blend (along with Vidal Blanc and Riesling) and their Mountain White. The estate grown Marechal Foch grapes are featured in some of their special release reds. Linville Falls Winery also has great success growing Riesling, an aromatic Vitis vinifera variety that originated in the Rhine Region of Germany. This popular variety is their "flagship grape" and is featured in their award-winning Riesling, as well as a Dry Riesling and several blends.
Across the state line in Tennessee, Watauga Lake Winery's Villa Nove Vineyard is situated at an altitude of 2,000 feet along Big Dry Run Rd., so named because it is an isolated area of dry land. Although it may be raining all around the vineyard, the farmland remains dry, bringing specific flavors to its hybrid vines. All of Watauga Lake Winery's wines are made with estate grown grapes, including their School House White, blended with Chardonel, Seyval Blanc, Golden Muscat, and Traminette. Their Traminette is a cold-hearty Gewurztraminer hybrid that is the "star" of the vineyard. Villa Nove Vineyard also grows the light pink Steuben hybrid to include in some off-dry blends.
The High Country region is very fortunate to be a part of its own AVA and to house four spectacular award-winning vineyards. We encourage you to visit each winery and taste the unique flavors of these lesser-known hybrid grapes. The talented winemakers have maximized their harvests to develop amazing wines from these resilient grape varieties.
Return to Featured Content on the Home Page >>
---

From the CML Kitchen
By Meagan Goheen
Fall Confetti Salad
INGREDIENTS
1 lb fresh Brussels sprouts, stems removed, cut in quarters
2 ½ cups butternut squash (1 small butternut squash), peeled, cubed into ½-inch cubes
5 TBSP extra virgin olive oil
2 TBSP brown sugar
1 tsp cinnamon
1 tsp kosher salt
½ tsp cracked black pepper
2 cups cooked quinoa
8 oz goat cheese, crumbled
½ cup salted pumpkin seeds
½ cup dried cranberries
Directions:
Pre-heat oven to 425 degrees.
To a large, rimmed baking sheet pan add the Brussels sprouts, butternut squash, olive oil, brown sugar, cinnamon, salt, and pepper; toss to combine.
Roast for 25-30 minutes or until golden brown, tossing halfway through.
In a large bowl, mix the roasted butternut squash, Brussels sprouts and quinoa. Top with pumpkin seeds, dried cranberries, and goat cheese.