---
Creative Focus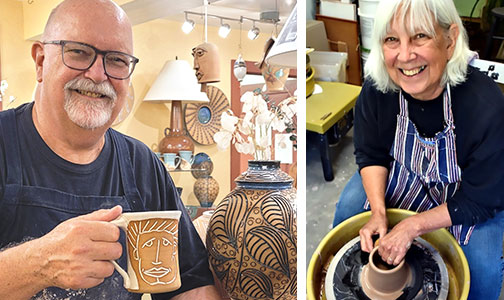 When Coffee Isn't Just Coffee:
How our 'mug-o-mania' changes everything!
By Gail Greco
Two mugs walk into a bar. One is sobbing; the other consoling: "Aww, heck! You knew he'd leave. He's a travel mug!" …
… A funny metaphor on how we mug enthusiasts won't give up any of our mugs. Just counted mine. A lot. And while my travel mug isn't going anywhere, I am. Fall beckons more hot coffee, tea, cocoa, so the thrill of the hunt is on for that "just-gotta-have" new mug.
A lot of ground to cover with so many galleries, such as Carlton Gallery in Seven Devils/Foscoe; dedicated pottery studios like Mud Slingers in West Jefferson; and gifty shops, Yummy Mud Puddle in Burnsville and The Shoppes at Farmers in Boone, to mention a few.
Mugs arrived circa 10,000 BC, made of bone. Now, they're fired pottery and stoneware, or molded ceramics, porcelain, china, and with added function—have you seen the modern drip, pour-over coffee mug from Fleetwood potter Carol E. King at Doe Ridge Pottery in Boone?
The High Country is a formidable contributor to North Carolina's status as pottery capital of America with longstanding artisans—for one, the Bolick family (Bolick & Traditions Pottery, Blowing Rock) slinging clay since the 1800s! I just bought their new fern mug by local potter Millie Gentry Goodnight. When a mug draws you in, there's no turning back. But, what makes a mug a mug? And what's our fascination with them?
Earth Meets Water and Heat and Then …The Mug Whisperers
We have many including the High Country's grand-priest-of-pottery, Bob Meier, owner of the distinguished Doe Ridge Pottery in Boone. "Mugs relieve stress. It's why we can't get enough of them," he preaches of the thousands he's made since he stumbled onto an App State pottery class some 45 years ago and "got hooked." But, he insists, "I have yet to make the perfect mug." Maybe, like many potters, this is why he never tires of crafting them and why our thirst to possess them goes unquenched.
Potters coax mugs, pulling and pushing up the clay with breath and hands, imagining the end user. I love feeling their handiwork inside a mug, running my fingers over wheel-thrown ridges. This hand-to-hand passage is symbiotic as Meier states on a poster at Doe Ridge: Buying a handmade mug creates a thoughtful connection between the purchaser who takes the time to select just the right mug and the potter who invested creative energy to achieve the mug. A potter such as Caron Baker Wike, whose works invite you to be a part of her family.
Designs showcase old lace doilies from Wike's grandmother, pressed onto multi-hole flower-brick vases, mugs, and bowls, available at Watauga County Farmers' Market and her studio classroom in Lenoir. One day she leaned on the lace, leaving a mark on her hand, heart, and her pottery: "Mugs share our first thoughts of the day, so they're important, not just as useful items but as memories, too."
Face Time, Spit Tobacco, and the Art of the Mug
Indeed, mugs are emotional with pride of ownership, and we can be uneasy when someone grabs it. "Hey, that's my mug…" Sound familiar? Nevertheless, mugs are art we can behold and touch. "Some say the mug is too nice to use. I want them to use it," smiles Becki Henderson-Gow (Creston), one of 14 other potters at Doe Ridge. Right now, shoppers are fawning over her rendition of 'old spit-tobacco' mugs, a throwback to potters chewing tobacco and then spitting on clay before firing. "I don't chew tobacco," laughs Gow, of the updated mocha-diffusion antiquing technique made with apple cider vinegar and an oxide.
Teresa Pietsch makes floral mugs exhibited at Mica in Bakersville, another one of our state's fine-arts galleries. "I love adding movement," she describes of her scalloped base mugs resembling a wavy skirted tree stump. Wild mushrooms and flowers bloom on her mugs, achieved by mono-printing, whereby line drawings are transferred via newsprint onto wet clay. Her mugs have an added bend near the handle. "My hands hurt (an echo of many potters) so I designed a comfortable grab for me, that then works for everyone."
A mug can be iconic and reminiscent, such as Leslie Bradsher's mountain mugs at Hands Craft Gallery, Boone, depicting a muted Pisgah National Forest mountainscape near her studio. I couldn't help but put them in front of Boone photographer Rachael Salmon's grandfather mountain photo, also at the gallery, to bring the mugs even closer to home.
A mug can cite a cultural issue, such as Nancy Graham's (Blowing Rock) beehive mugs, recognizing the plight of bees. They're selling out fast at Doe Ridge. Mugs also make faces to express themselves. The old folk-art form with distorted faces on mugs was latched onto by law enforcement reporting criminals as mugs, a word similar to the Swedish mugg and the German mokke that mean face. Maybe today's face mugs depict how a potter is feeling on a given day!
Anatomy of a Mug
Even though we refer to our mugs as "my coffee cup," mugs are theoretically a cup, but a cup is not necessarily a mug. Mugs vary, averaging four inches tall and thicker than cups, so no pinkies up! Straight-sided mugs with wide bases (not narrow-bottomed as cups) are most common. A rolled lip atop a handmade mug prevents dribbles; no saucer needed.
Mugs hold beverages hotter for longer, especially with narrower mouths than cups (many in the shape of a chiminea), and handles are friendlier, from multi-finger grips to one-finger loops for that grab-and-go swig; many even have a thumb rest for easier tilting. At Rivercross in Valle Crucis, I bought a little mug with a big four-finger handle—oversized for the mug, but just right for the hold. It's by Keith Martindale of Seagrove, home to our state's largest concentration of potters. "Handles are personal," notes Nate Fields of Doe Ridge, who also crafts mugs without any handle at all in the style of the Japanese yunomi.
Boone resident Judith Phoenix has stiff fingers, so she was prescribed daily exercises including warming her hands first. "So, my round bellied mug (by Hannah Sidner of Morganton, at Artwalk, Blowing Rock) allows me to multi-task, drinking my coffee while heating my hands." Same goes for many folks buying the Mast General Store's (Valle Crucis and Boone) popular warming mugs with mitten-like sleeves.
Mugs talk to us, including as science reports—how their style and color can render our coffee bitter or sweet. Inspirational mugs with messages, like the ones I found at The Shoppes at Farmers, that read Stay Wild, See the Good, Choose Happy do the same. And mugs can change your mood with the store's unique line of black-and-white mugs that turn colorful when a hot beverage is added.
Amber Bateman, executive director of the Watauga Arts Council, told me that we have so many potters in the High Country, it's hard to say just how many. Both the Watauga Arts Council and Ashe Arts Council are terrific resources for connecting with our local potters, including Cheryl Williams, whose mugs are available at her studio, Grassy Creek Pottery, and down the street at The Old Store at Grassy Creek (Ashe County).
Meanwhile, I'll continue my pursuit of the perfect mug. And here are just a handful of upcoming opportunities should you want to do the same!
Ashe Arts Council's "Art on the Mountain" event on September 23, and Gallery Crawl on October 13
The Watauga Arts Council Center – pottery exhibit for the month of October
The annual Spruce Pine Potters Market – October 14-15
The annual mug show at Doe Ridge Pottery – November through January
Hands Craft Gallery in Boone; The Art Cellar Gallery in Banner Elk; BE Artists Gallery in Banner Elk; It's All About the Art in Banner Elk; Carlton Gallery in Seven Devils/Foscoe; Mica Gallery in Burnsville; Southern Highlands Craft Guild at Moses Cone Manor; and Johnson County Center for the Arts in Mountain City, TN
Blue Ridge Craft Trails—Visit blueridgeheritage.com/blue-ridge-craft-trails/ to expand your pottery pursuit throughout our region.