---
Community Profile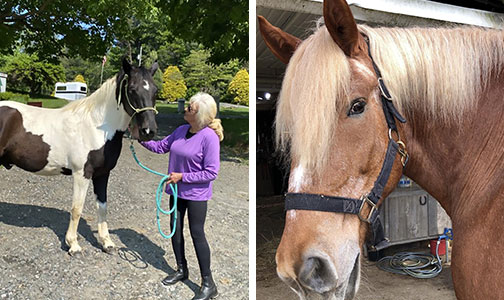 For the Love of Horses…and a Daughter Named Kasey
By Steve York
His name is "Doc." He's quite famous…at least amongst his companions, peers and closest supporters. He's even had a book written about him. Two books, in fact.
Doc is a rescue horse, a 25-year-old Belgian Draft Horse to be exact. That's around 73 "people years." And, for the past four "people years," he's been enjoying his celebrity at Southern Sun Farm Sanctuary Horse Rescue in Glendale Springs, North Carolina, operated by Ann and John Lisk.
Although Doc is the sanctuary's most famous resident, he's only one of 21 rescue horses, ponies, donkeys and even dogs whose lives were transformed from desperation and near death to health and happiness. That's all thanks to the Lisks, plus their devoted, all-volunteer staff who donate their labor at Southern Sun Farm Sanctuary.
"We could not do this job without our volunteers," noted John Lisk. "They're mostly retired professionals, many with post-graduate degrees, who help shovel horse manure, drive tractors and fix fences. They come rain, shine, snow, and ice. They blanket horses in 10-degree temps with 30 mile-per-hour wind. They all say this is a special place and they look forward to coming." 
Were it not for the Lisks, their volunteers and the support of donors who contribute to their 501(c)(3) charitable operation, Doc and his other friends would have perished by starvation, neglect, ill health, cruelty…or might have been sold by profiteers for slaughter across the borders of Mexico and Canada. Fortunately, the U.S. has strict laws against these practices. But other countries do not. So, too often, that's the sad fate of thousands of horses each year.
Doc's story, along with that of his rescue companions, are all poignant, inspiring and available online at www.southernsunfarm.com. It's there you can make donations, plus find links to purchase those two books about Doc written by Pam Lather and illustrated by Anna Welsh. There's also a link to pet portrait artist and retired App State Art Instructor Jeri Allison. "Jeri is one of our best volunteers. Her work is gorgeous, and she is very generous with her revenue sharing. She is another example of our volunteers who not only give of their time, but also of their individual talents," said Lisk. 
Another frequent volunteer at the Lisk rescue farm is friend and supporter Ginny Burton, a seasonal resident of Elk River Club. "I love to visit, take in the breathtaking mountain views, and watch those pampered and beautiful horses now enjoying their lives. This is a true story of how John and Ann turned a life-altering tragedy into a passionate, life-long goal to provide a safe and loving haven for hapless and unwanted horses. They are most deserving of the monetary help needed to carry on their mission," Burton offered.
Indeed, the whole story behind Southern Sun Farm Sanctuary is especially inspiring. Ann and John Lisk had always been horse lovers, rescue supporters and Animal Welfare champions in both Florida and Ashe County, NC. They relocated permanently to Ashe County and officially launched their horse rescue farm in 2001. That was five years following the passing of their 15-year-old daughter, Kasey, who was washed over the headwaters of Besty Falls on the Lisks' Glendale Springs property while trying to rescue her Golden Retriever pup, Beau. Although Beau survived, Kasey did not. Southern Sun Farm Sanctuary has forever since been a living legacy to her memory.
More recently, however, rescue farms like the Lisk sanctuary are becoming few and far-between. Available rural lands are shrinking. And, with recent rising prices, the costs of essential care and feeding have placed a major burden on rescue operations, forcing some to shut down and the remaining to feel the increased demand to take on more animals.
Despite its excellent reputation, Southern Sun Farm Sanctuary is no exception. COVID took its toll on the global economy as well as supply chains; not to mention support for non-profits like the Lisk farm. They've benefited from some success via experienced grant writing and from wealthier donors. But unfortunately, those factors alone don't provide a long-term solution to an ever-growing need to accommodate more animals and provide top quality care.
"Our costs have increased 40 percent," Lisk noted. "Recently, we were asked to take in 57 animals that we had to turn away due to lack of space and funding. When we can't take in a horse, we try to help find a soft landing spot. Our goal for 2023-2024 is to build a new, large, centralized barn with 10-12 more stalls, a covered farrier area and veterinary space, wash stalls and more." 
To help boost awareness, the Lisks have created or participated in several fundraising events including Derby Day at the Old Barn Winery in West Jefferson (oldbarnwinery.com), plus Frontier Days and horse appearances in two Saloon Studios Live films (saloonstudioslive.com). These events, along with publicity from print and social media, help stoke interest and inspire donations.
Truly, Southern Sun Farm Sanctuary is a heaven for horses and their kin who desperately need rescuing. But, like other rescue farms, it requires dedicated donors to keep the gates of this heaven open. "We can't save them all, but we will help the ones that we can," said the Lisks. "As it says in our literature, Saving one horse won't change the world, but it will surely change the world for that one horse."
Contact Southern Sun Farm Sanctuary at (336) – 977-8966 or [email protected]. Donations can be made by mail to PO Box 111, Glendale Springs, NC 28629, or at www.southernsunfarm.com.