---
Regional Happenings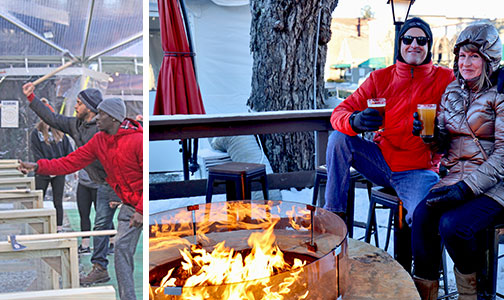 Seize the Winter!
Endless Fun to Be Had in the High Country
By Karen Rieley and CML Staff
Think of the High Country in the winter and, no doubt, you think of snowboarding and snow skiing. After all, the area boasts three great ski mountains, including Beech Mountain Resort, Sugar Mountain Resort, and Appalachian Ski Mountain.
But many other opportunities abound this season—for all ages and interests, indoors and out. Check out this helpful directory of just some of the endless winter activities available to High Country visitors and residents. Be sure to Google the website or Facebook page for each listing to find addresses, days and hours of operation, costs, age restrictions, advance reservation requirements and other specifics.
Attractions
Wilderness Run Alpine Coaster in Banner Elkis the first alpine coaster in the North Carolina mountains. Each cart accommodates one or two people. Once the cart is pulled by a cable to the top, the remainder of the ride is downhill—fed by gravity—on multiple 360-degree loops, with riders using hand brakes to control the speeds, which reach up to 27 miles per hour.
Mountain Warriors UTV in Elk Park is a recreational UTV touring business that offers scenery, fun and adventure started by mother and son Regina and Carson Gordon. It has more than 80 acres of land and trails, with top-of-the-line Polaris Rzr 1000 XP 4-seater vehicles. This is a guided UTV tour that offers views of the Appalachian Mountains, beautiful trail riding and intense hill climbing.
Sugar Creek Mining Company in Banner Elk lets you experience the thrill of prospecting for your very own authentic gemstones. You're guaranteed to find precious and semi-precious gemstones in every bucket. The expert staff will set you up on the heated flume line and then help you pan for gems and identify them. If desired, expert gem cutters can cut your rough gemstones and set it into a piece of jewelry.
Apple Hill Farm in Banner Elkfeatures alpacas, llamas, angora goats, and more! Find joy and connection through the animals and the experience of a real working farm. Take the 60-minute guided tour and leave with a smile on your face and memories to share. Public tours are offered Wednesday through Saturday during the winter months, with private tours offered seven days a week. Tours by advance reservation only.
Tweetsie Railroad in Blowing Rockcelebrates the holiday season through Dec. 30 with Tweetsie Christmas, a winter wonderland and a nighttime train ride among thousands of dazzling lights! Enjoy the rides, shops, Santa, and much more.
The Blowing Rock in Blowing Rock is North Carolina's oldest tourist attraction. Enjoy the endless winter views and read the legend. Call ahead for hours, especially during inclement weather.
Mystery Hill in Blowing Rockis a unique blend of indoor and outdoor adventure. Explore the mysterious Natural Gravitational Anomaly, and watch a ball roll upwards and water flow uphill! Have fun with weird science in the hands-on science attraction, the Hall of Mystery, or encase your friends in a giant bubble at Bubblerama. Try your hand at axe or knife throwing and brave the Bull Riding Challenge at Tomahawk Hill. This winter, experience Crazy Christmas at Mystery Hill with daily elf hunts, Christmas Crafts, Christmas-themed photos, gem mining for Christmas jewels, snowball fights and weekend activities, including a YETI encounter, roaming carolers, Christmas light walk, Santa's landing and more! (Also see "Museums" below.)
The Children's Playhouse in Booneprovides children from birth to age eight with an enriching, educational play environment while at the same time offering their parents and caregivers friendly support in the important job of raising children.
Hero's Axe House at Shoppes of Tynecastle in Banner Elk/Seven Devils, is a premier axe throwing venue with unique projected axe throwing targets. Hero's hosts axe throwing birthday parties, bachelor parties, bachelorette parties, team-building events, company events, and a variety of other special occasions. Open Thursday through Saturday, and by appointment.
Grandfather Mountain in Linvillefeatures the Mile-High Swinging Bridge. Weather permitting, the swinging bridge is the perfect spot to take in the endless winter vistas and capture the snowcapped mountains. Afterwards, head down to the Wilson Center for Discovery, and the animal habitats, where you can see how otter, cougars and eagles stay busy during the winter months!
Linville Caverns in Marionare the only show caverns in NC and have a constant year-round temperature of 52 degrees. This is a perfect place to visit on a cold and windy winter day! See the winter hibernation of granddaddy long-legs and unique limestone formations. The caverns are open on weekends only during the winter. Bring a raincoat or a coat with a hood. The cave tends to drip!
YMCA of Avery County has something for everyone! Visitors can get a day pass and access everything the YMCA has to offer, including the indoor swimming pool with water slides and aerobics classes, a wide variety of group exercise classes, the Wellness Center with cardio and strength machines, basketball courts, indoor batting cages, golf simulators, drop-in childcare and more! If you're staying longer, ask about YMCA membership opportunities. You can also see upcoming holiday programs and events on the YMCA website and social media accounts.
The Fred and Margie Pfohl Buckeye Recreation Center in Beech Mountain offers non-members day passes for full access to the facility, including a weight room, regulation-size gym, indoor tennis courts and a soft playroom for kids eight and under. The lobby provides Wi-Fi, cozy seating and an extensive lending library. Fitness classes are offered as well. The recreation center also manages the free canoe and kayak rentals on Buckeye Lake.
Breweries & Wineries
The High Country is home to several great breweries, including Appalachian Mountain Brewery, Beech Mountain Brewing Company, Blowing Rock Brewery, Boondocks Brewing Tap Room & Restaurant, Booneshine Brewers, Kettell Beerworks, Lost Province Brewing Company, and New River Brewing.
If wine is your preference, check out the wineries on the High Country Wine Trail including Banner Elk Winery & Villa, Eagles Nest Winery, Grandfather Vineyard & Winery, Linville Falls Winery, Thistle Meadow Winery, and Watauga Lake Winery.
Hiking
Winter hiking offers crystal clear views, fewer people on the trails, and peace and quiet. And it's worth braving the chill to make your way to one of the area's waterfalls that transform into wondrous works of icy art during the winter season.
In Blowing Rock, Glen Burney Falls Trail is less than two miles long and offers several mini falls along the way that make for good photographs.
Blue Ridge Parkway has many trails to explore: Moses H. Cone Memorial Park Trails at Milepost 294near Blowing Rockinclude 25 miles of historic carriage roads that are now wide, gravel trails. Three top hiking picks are: Flat Top Road Trail, about a six-mile hike from Flat Top Manor; Bass Lake Trail, an easy eight-tenths of a mile loop that takes you around the lake that is accessed from the Bass Lake entrance on U.S. 221 just outside downtown Blowing Rock; and Rich Mountain, about a five-mile roundtrip hike from Shulls Mill Road.
Julian Price Memorial Park at Milepost 296.7is a majestic 4,200 acres at the foot of Grandfather Mountain. The park lies directly adjacent to Moses H. Cone Memorial Park. Price Lake Trail at Milepost 297is a 2.5-mile loop trail that is mostly flat with plenty of lake vistas. Green Knob/Sims Pond Trail,inside Julian Price Memorial Park, is a 2.4-mile loop trail by a pond and cascades, and through a highland pasture. Boone Fork Trail,another loop trail in Julian Price Memorial Park, is five miles, taking you by many small waterfalls and through rhododendron tunnels.
Tanawha Trail stretches 13.5 miles from Julian Price Memorial Park to Beacon Heights and parallels the Blue Ridge Parkway on Grandfather Mountain. The many accesses from the parkway let hikers choose as long a section as they like. Marked with white blazes, the Mountains-to-Sea Trail (MST) runs jointly with Tanawha Trail. The MST stretches from Clingmans Dome in Great Smoky Mountains National Park to Jockey's Ridge State Park on the NC coast. Rough Ridge at Milepost 302.8 is actually a part of the larger 13.5-mile Tanawha Trail, but it is also a popular trail in its own right.
Beacon Heights Overlook Trail at Blue Ridge Parkway Milepost 305.2near Linville, N.C., is a short hike along the Blue Ridge Parkway to a stone summit with big views, especially nice for picnics.
Flat Rock Nature Trail at Milepost 308.3is a mostly flat, ¾-mile loop that offers panoramic views from a "stone mountain" as you walk across the smooth rock summit. Linville Falls at Milepost 316is the most popular waterfall in the Blue Ridge Mountains. It is a spectacular, three-tiered waterfall plunging into Linville Gorge, the "Grand Canyon of the Southern Appalachians." The Falls Trail distance is 1.6 miles round trip and easy. The Gorge Trail distance is 1.4 miles round trip and strenuous. The Plunge Basin Trail is a one-mile round trip and moderate.
Grandfather Mountain, the privately owned nonprofit nature park near Linville, offers access to 12 miles of premier hiking trails, some of which venture into the adjacent Grandfather Mountain State Park. The nature park offers access to 11 trails varying in difficulty from a gentle walk in the woods to a rigorous trek across rugged peaks. In-park trails include the Woods Walk, Black Rock Nature Trail and Bridge Trail. The nature park also provides access to backcountry trails within Grandfather Mountain State Park. Along the Grandfather Trail, a very strenuous trail that runs from the mountain's Hiker Parking Lot out 2.4 miles to Calloway Peak, hikers use in-place cables and ladders for extra steep sections and at times are traversing the ridgeline of the mountain. If guests plan on hiking the backcountry trails, they're asked to fill out hiking permits before setting out. These permits also give the hiker contact information to utilize if needed. Profile Trail is a 3.6-mile strenuous trail inside Grandfather Mountain State Park that takes you up the side of Grandfather Mountain to Calloway Gap.The trailhead to access the Profile Trail is located at 4198 NC Highway 105 North.
Williams Park in Sugar Mountain is a wooded 14-acre boulder-field forest with three short hiking trails that follow a cascading stream.
Beech Mountain Trails offer hikers of all ages and skill levels a number of options:
Emerald Outback features more than eight miles of outstanding trails near the mountain's summit.
Upper Pond Creek Trail is Beech Mountain's favorite trail with an easy one-mile hike and 15 different educational stations.
Wild Iris Trail is an easy 2.5-mile woodland trail with only a moderate elevation change. A trail for all seasons, Wild Iris is perfect for hiking and biking as well as cross-country skiing and snowshoeing.
Lower Pond Creek Trail is a one-mile moderate to strenuous trail that offers some of Beech Mountain's greatest natural beauty.
Hi-Lo Trail starts at Beech Mountain and offers you three choices of trails—the Tasters Loop, Lakeside Loop and Mountain to Mountain Loop.
Elk Knob Summit Trail in Todd is 1.9 miles to one of the highest peaks of the Appalachians.
Otter Falls Trail in Seven Devilsis a short 6/10-mile trail to a 25-foot waterfall.
Crab Orchard Falls Trail in Valle Crucisis a 1.5-mile roundtrip hike that takes you to the beautiful Crab Orchard Falls waterfall. Access to the trail is behind the Valle Crucis Conference Center.
Elk River Falls Trail in Elk Parkis a short half-mile hike that leads you to a 50-foot waterfall cascading over a cliff.
Waterfalls Park in Newlandis a small roadside park on NC Highway 194 across from Ingle's grocery store with a 50-foot multi-tier waterfall for easy enjoyment for all, including picnic tables and a short trail.
Big & Little Lost Cove Cliff Trails near Newlandare two sections of Lost Cove Cliffs in Pisgah National Forest and in the Wilson Creek Wild and Scenic River Area. You can hike to both Big Lost Cove Cliffs and Little Lost Cove Cliffs with this 5.5-mile trail combo.
Hawksbill Mountain Trail in Burke County is a 1.5-mile roundtrip hike to the summit of Hawksbill Mountain offering panoramic views of the canyon of Linville Gorge Wilderness Area with the valley floor and Linville River 2,000 feet below you.
Indoor Climbing
When being outside is less than appealing, indoor climbing can be a great alternative. Two facilities in Boone offer superb options. Center 45 Climbing & Fitness has 2,000 square feet of indoor climbing (bouldering) terrain. The walls are all 14 feet at the apex with varied terrain. Every week, talented and creative route setters craft new and exciting climbs. The facility also offers additional weightlifting and general fitness opportunities, along with a climbing-specific training area. Rock Dimensions Tower, next to the Footsloggers store in downtown Boone, stands about 40 feet tall and has more than 4,000 square feet of varying climbing terrain to accommodate both beginners and seasoned veterans. The "Tower to Rock" program combines a tower experience with climbing out on real rock all in a day! Staff belays as well as belay classes and certification opportunities for belaying at the tower are also offered.
Festivals
25th Blowing Rock Winterfest returns to Blowing Rock January 26 – 29, 2023. Jump into winter with the Polar Bear Plunge and Beer Garden. Keep warm with restaurant specials, a Chili Challenge and family activities at area attractions. Shop till you drop on Main Street while enjoying the Ice Carving demos in Memorial Park. Whether you're looking for a couple's getaway or a family friendly weekend, WinterFest has something for everyone!
Chetola Resort at Blowing Rock's Festival of Lights in Blowing Rock becomes a Winter Wonderland through January 2023, with over 50,000 dazzling lights around Chetola Lake. Make the drive around the resort and Chetola Lake for a stunning winter lights experience—the warm colors against a cool mountain background makes for a view like no other and highlights the natural beauty of the High Country. The displays illuminate at dusk each evening. The festival is a High Country tradition that culminates in Blowing Rock's Winterfest.
Additional Holiday Festivities are offered in each of the High Country's towns.
Holiday decorations and twinkling lights are especially magical against a background of snow in the High Country. Check out the parades and Christmas tree and art exhibits.
Fishing
If your passion is fishing, winter is an ideal season to stalk wily mountain trout. The crowds are gone, leaving you with solitude, spectacular scenery, and brook, brown and rainbow trout. There are guide services around the High Country offering outings.
Galleries/Art Trails/Workshops
Artists' creativity never lets up. Winter can be a great opportunity to see some of the latest creations by local artists before the spring crowds arrive. Workshops and other events are also held throughout the year. Carlton Gallery is one of the foremost fine art galleries in the High Country of Western North Carolina exhibiting paintings, glass, sculpture, wood, clay, wearable fiber and jewelry. Crossnore School and Children's Home has provided hope and healing for North Carolina's children in need for more than 100 years. In support of their mission, the Crossnore campus invites the public to several arts and crafts venues, including an Appalachian weaving museum and gallery, Crossnore Weavers, and Crossnore Fine Arts Gallery. Mica Gallery in Bakersville is a cooperative gallery of fine crafts, showcasing the work of its 13 members whose creative lives have been nurtured by the energy of the surrounding Blue Ridge Mountains. On display and available for sale is a variety of functional and sculptural ceramics, glass, fiber, metal and paintings. The gallery at Jones House in downtown Boone showcases local and regional artists in changing monthly exhibits. Also in Boone, you'll find Hands Gallery, Doe Ridge Pottery, Blue Ridge ArtSpace, and more.
The NC High Country Fresco Trail throughout the High Countryincludes more than a dozen frescoes painted in small mountain churches in the 1970s by artist Ben Long, a NC native. Follow the trail to see the following: 1849 St. Paul's Episcopal Church Fresco, downtown Wilkesboro; Holy Trinity Church Fresco, Glendale Springs; St Mary's Church Fresco, West Jefferson; and Sloop Chapel, Crossnore.
Many other galleries and crafts venues are open through the winter season. One of the best resources for finding listings and details of all the galleries and art trails in the region is at the Blue Ridge Craft Trails website: www.blueridgeheritage.com/blue-ridge-craft-trails. You can also visit our local Arts Councils' websites, including Ashe County Arts Council, Watauga Arts Council, Toe River Arts, the Cultural Arts Council of Wilkes, and the North Carolina Arts Council.
Let's Be Artsy! in Boone unleashes your creative side. The talented team of instructors guides you step by step through the session's featured painting. All painting supplies and artist instructions are provided. No art experience is needed. You can even take a fun, introductory belly dancing class, too!
Horseback Riding
Riding a horse or taking a carriage ride through snow-covered woods can be a one-of-a-kind experience. Two services offer 2.5-hour guided tours with trustworthy horses on easy carriage trails throughout Moses H. Cone Memorial Park at Milepost 294 on the Blue Ridge Parkway. VX3 Trail Rides offers custom rides for individual riders with experienced trail guide Tim Vines. Rides are limited to a maximum of five to give you the best experience possible. Carriage Run Carriage Service offers carriage rides on the 32 miles of carriage trails in the Cone Estate.
Museums
BRAHM (Blowing Rock Art and History Museum) in Blowing Rockpromotes the arts and Southern Appalachian heritage and history through educational programs, exhibitions, activities and permanent collections. Current exhibitions include: "Trash Trout Picture Show" through February, 4; "Uncommon Volumes: Sculptural Selections from Studio Glass in the Region" through February 25; "Coast to Coast: Contrasts & Shared Values Across American Impressionism" through March 18; "Geometry with Feeling: Ida Kohlmeyer in Two & Three Dimensions" through May 7; "Recent Acquisitions to BRAHM's Permanent Collection," through May 14; "Earth & Fowl: Chickens and Other Poultry in Clay" through July 25; The Janet H. Wilson Collection, ongoing; Philip Moose, permanent collection; and "The Village of Blowing Rock: Exploring Our History," permanent exhibit.
Appalachian State University's Turchin Center for the Visual Arts in Booneoffers free admission to the following permanent collections and rotating exhibitions: "Folded and Gathered: Nicole Pietrantoni" through February 4; "Transformations: App DigiFab" through May 6; "Thin Places: Kiliii Yuyan" through May 6; "Altered Environments/Tidalectics: April Flanders, Guest Curator" through May 6; "36th Rosen Outdoor Sculpture Competition and Exhibition" through May 14; "Campus Arts Corridor," current displays through August 1;
"Say:Word, a site-specific installation by Renee Cloud & de'Angelo DIA," Jan 20 – Jun 3, 2023.
Mystery Hill Museums include the 1903 Dougherty House: Appalachian Heritage Museum and Appalachian Fossil Museum in Blowing Rock. The Dougherty House was the first home in the area to have electricity and running water. The home is being restored to its original 1903 condition. Guests can tour the home, which is filled with turn-of-the-century furniture, antiques and memorabilia. Appalachian Fossil Museum displays North Carolina's largest private collection of fossils.
Museum of Ashe County History
The Museum of Ashe County History, Inc. is a non-profit organization dedicated to the preservation of the historic 1904 Ashe County Courthouse building as a county heritage museum for visitors of all ages. The museum features a number of permanent and revolving exhibits, such as "Mining," "Virginia Creeper," and "Moonshine and Music."
The Avery County Historical Museum in Newland is housed in the old county jail and features exhibits on railroads, local Civil War history, and country music stars Lulu Belle and Scotty Wiseman, among many others exhibits. The museum is on the National Register of Historic Places.
Music, Live and Indoors
Check out the many restaurants, breweries and wineries throughout this issue to find live music, from jazz to traditional mountain jams, all season long. Also, check out this issue's Cultural Calendar for winter concert opportunities. Visit the Ashe County Arts Council's website calendar for year round music to include Kruger Brothers, Ciompi Quartet, Hayes School of Music Faculty Ensemble and much more.
Reading and Educational Programming
Winter is the perfect time to cozy up with a book. The Appalachian Regional Library System is known for its wonderful collections, librarians and special programming throughout the year. Visit the Ashe County Public Library in West Jefferson, the Watauga County Library in downtown Boone, and the Wilkes County Library in North Wilkesboro. The Avery-Mitchell-Yancey Regional Library System also offers modern and cozy facilities, knowledgeable staff, and a variety of amenities, with branches in Newland, Bakersville, Burnsville and Spruce Pine.
In downtown Banner Elk, be sure to visit the Banner Elk Book Exchange where you can "Bring a Book, Take a Book" (or puzzle) throughout the year. The Book Exchange recently added to their regional collection—books written by regional authors or about regional subjects.
Snow, Snow, Snow!
Cross-Country Skiing/Snowshoeing | If you're looking for fun, easy, and safe new ways to stay active and energized over the winter months, cross-country skiing and snowshoeing offer great alternatives for outdoor enthusiasts of every age and skill-level to get out and explore winter. They are much faster to learn, and are also more affordable as a sport. The region offers a variety of options. Beech Mountain has an extensive trail system available for snowshoeing with all levels of difficulty. Experienced snowshoers might consider the Emerald Outback trails at the top of the mountain. An easier snowshoeing option is the 1/3-mile walking track surrounding the Buckeye Recreation Center. Sugar Mountain Resort offers a snowshoe guided tour that can be a casual walk or an intense workout in a wonderful winter wonderland. Boone Greenway Trail (Boone, NC)is a nice flat trail that meanders through the woods and mountains and along creek beds. The trail is maintained by the Town of Boone, but it is "last on the list" to be scraped for snow after all town sidewalks and roads are clear, so there is a good chance you can get in some skiing if you arrive right after a good snow!When the Blue Ridge Parkway is closed to vehicles due to ice or snow, it is open to hiking, cross-country skiing and snowshoeing. Visit the National Park Service website for Blue Ridge Parkway road closures. Two good starting points are the gate on U.S. 221 near Beacon Heights to travel to the Linn Cover Viaduct, and off U.S. 221 just outside of Blowing Rock and south of the Cone estate on the parkway. In both cases, make sure to park without blocking the gates in case a park ranger needs to enter the area. Moses H. Cone Memorial Park near Blowing Rockoffers some fine cross-country skiing in an attractive and historic venue. Valle Crucis Park has a nice and flat ¾-mile paved loop that is great for cross-country skiing. (The park also offers excellent trout fishing locations that are accessible on snowy days.) Elk Knob State Park in Toddis the only North Carolina State Park to offer cross-country skiing. Roan Mountain State Park in Tennesseesits at the foot of the soaring ridgetop for which it is named. Roan Mountain gets more snow than other local areas. It offers a variety of terrain—from scenic routes for novices to thrilling downhills for experts (though none of the trails are groomed).
Ice Skating | While others are skiing or snowboarding on the slopes, you and your children may enjoy ice skating. Sugar Mountain Ski Resort has the added advantage of ice skating located next door to restaurants, retail stores and other amenities. At Appalachian Ski Mountain, families can watch the resort's Zamboni scrape the ice floor to get the rink ready for skaters!
Kids' Camps & Lessons | If you want to expose children to the lifelong sport of downhill skiing, you're in the right place. While you can learn at any age, kids have the advantage of being flexible, nimble and relatively fearless. Enrolling your child in one of the region's ski or snowboarding camps is a great way to introduce them to a positive and fun first-time experience. Plus, while they're in camp, you're freed up to enjoy some adults-only time! Appalachian Ski Mountain has SKIwee and Cruiser Camp programs designed to teach beginning skiers, ages 4-10, and snowboarders, ages 7-12. Beech Mountain Resort offers several kids' camps: Burton Learn to Ride Center for ages 6-12 to learn the basics of snowboarding; Snow Kamp for ages 3-5 to provide a positive and fun first-time experience; and Traxx ski instruction for ages 6-12. Also, Ski & Ride School offers hourly lessons for ages 4 and older and Snowflakes Childcare watches kids, ages 1-5, while adults hit the slope. Sugar Mountain Ski Resort's Children's Snowsports School includes Sugar Bear Ski and Polar Bear Snowboard schools to teach skiing to children, ages 5-10, and snowboarding to children, ages 7-14.
Sledding | Sledding is the easiest and most accessible winter activity for all ages. It can be done almost anywhere there is a hill and public property—an inexpensive plastic sled will do—and snow in the High Country is almost certain throughout the season! Beech Mountain has a popular sledding hill across the street from the Visitor Center and behind the Brick Oven Pizzeria. It can be accessed from Bark Park Way, the paved road that runs beside the pizzeria. Parking is either in the public gravel lot just before the restaurant off the Beech Mountain Parkway, or the new, paved pay-to-park lot on Bark Park Way. Two state-of-the-art snow guns ensure a good base and quick coverage when the weather is optimal for snowmaking. Only plastic sleds may be used—no tubes or sleds with metal runners.
Tubing & Ziplining | If snow tubing and ziplining are more your speed and comfort level, you have several great choices in the High Country. All offer sweeping views of the Blue Ridge Mountains, plenty of lanes, snowmaking, plus moving carpet lifts to quickly transport you back to the top. Check out Beech Mountain Resort, Hawksnest in Seven Devils,and Sugar Mountain Resort, all in the northwest mountains of North Carolina.
Theatre
When the weather turns blustery and cold, a matinee or night at the theatre may be in order. Check out the offerings around the region, such as the Appalachian Theatre of the High Country, several groups at Appalachian State University (Department of Dance, Hayes School of Music, and the Schaefer Center for the Performing Arts), BeanStalk Community Theatre and Blue Ridge Community Theatre in Boone; Ensemble Stage and Lees-McRae College performances in Banner Elk; and Ashe County Little Theatre in West Jefferson, among many others. See the CML Cultural Calendar for a complete listing of upcoming productions and contact information for each theatre.
---
Find more happenings on our TIDBITS page>>
---
Have an event for us to consider listing in a future issue of CML? Email your press release to CML's editor at [email protected]
—
Many other events will take place here in the High Country throughout the season. Some of the best resources for event listings and schedule changes are our local Chambers of Commerce and Tourism Development Associations. Be sure to visit the following websites before planning your visit to take advantage of all that our region has to offer.