---
Food & Beverage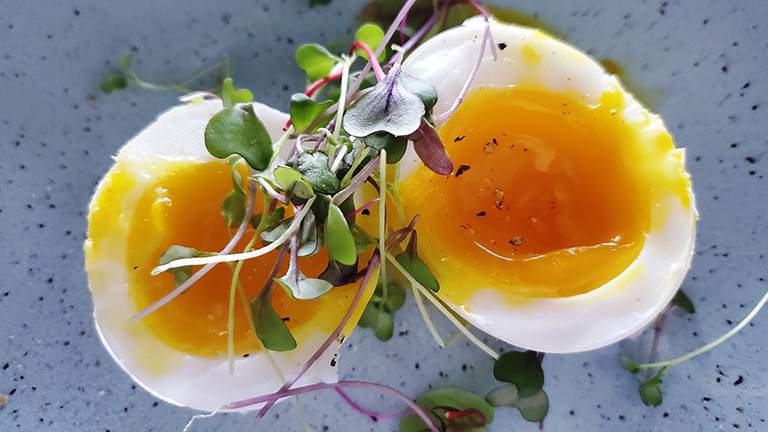 Eggstra! Eggstra! We've Always Got 'Em
Chickens, Ducks, and Quail … Oh Lay!
Story and Photos by Gail Greco
"The present was an egg laid by the past that had the future inside its shell."
Eggs and springtime share the promise of rebirth. So this grace note from 20th century anthropologist and folklorist Zora Neale Hurston is timely, and challenges conventional wisdom that nothing is perfect. I reflect, the egg is!
From scrambling up meals du jour or creaming omelets and pouffing custards to fluffing meringues, binding fats with liquids, structuring sauces, and disguising themselves undercover to leaven our baked sweets and savories, eggs takea beating….but they can't be beat!
May is National Egg Month, officially kicking off the egg season when increased daylight hours boost hens' productivity. Eggs give their all. But the recent avian chicken flu and eggflation put a poke in our yolk, dripping egg on our face "for taking eggs for granted," avows North Carolina Cooperative Extension Agent and Dietician Margie Mansure.
The United Egg Producers (a national co-op of farmers "promoting responsible egg production") fears a spring/summer repeat from diseased seasonal bird migration, and expects egg prices to remain high—of particular concern to "families on fixed and low-incomes," reports Mansure, who offers alternatives such as protein-rich beans and whole chickens, not pricier parts. Yeteggs, she says, even at a higher price, are "still the best value around."
Mansure's recent pasta cooking class at Watauga County Agricultural Center in Boone required two dozen eggs, costing $18—an unplanned chunk of her budget, she now calculates when designing classes such as one coming up: Plant Forward. "We're humbled, so we adjust."
Catherine Reczek, Boone's Be Natural Market owner, saw empty shelves at area supermarkets, whereas at her market—a full-scale health-foods grocery—stock was at times low, but still plentiful from her main source, Mountain Memories Farm in nearby Elk Creek, VA. "We had to raise prices a bit, but just to cover costs so we could still do our part for the community. Many people are fussy about their eggs, wanting to know where they came from."
Local farmers (unaffected by bird flu) came to the rescue to fill trickle-down demand, agrees Michelle Dineen, Watauga County Farmers' Market manager,with eggs from farms such as Creeksong in Zionville, Mountain Roots in Lansing, and her own Sunshine Cove Farm (quail eggs) in Valle Crucis.
Abby Willis of Stick Boy Bread in Boone relates: "The general egg-buying public was more affected than us. Vendors continue to raise costs to us, but we aren't raising prices." Stick Boy's cakes, scones, muffins, croissants, and pastries use a whopping 180 dozen eggs minimum each week. Eggs for 'plate breakfasts' and sold by the carton at the Stick Boy Kitchenlocation "are hard to keep in stock."
Out-and-About Yolklore
Eggs are the fourth most purchased grocery item after bread, meats, and peanut butter, according to the U.S. Department of Labor Statistics. But not all eggs are alike. In shells of ivory, brown, blue, green—with deep mango-colored yolks—our local eggs are abundantly more nutritious than those from stuffy, confined farm factories where egg season is forced every day.
As they scratch the dirt, strutting their feathers—stencil-like lacy, polka-dot perky, and bold stripey—our chicks rock like models, flaunting their designer plumage on the High Country's grassy terroir runways. So social media, lampooning eggs as so elusive that a gift of a dozen is more romantic than jewelry, may have gotten it right for this town anyway!
For Heritage Homestead Dairy in Crumpler, it's duck eggs that are suddenly in demand at the farmers' market. "Flu-fear sent people trying and liking them," reports farmer Carol Coulter, who can't keep them in stock. Larger than chicken eggs and creamier, a dozen duck eggs are only 50 cents more this spring, because of higher feed costs. And the foraging Coulter does to find the eggs is free with purchase, included in the price, as she doesn't have her ducks-in-a-row—thankfully! The waterfowl waddle freely, laying eggs under brush. "I get out quickly to beat the crows, who love them, too," she grins. Hmm…talk about supply-chain issues!
Maw's Produce in Foscoe also acquired new customers for their fresh-from-the-chicken eggs, reports manager Christina Musumeci. The Blue Ridge Women in Agriculture's mega, local-only Food Hub in Boone reported a supply blip, only to have Daybreak Homestead (Triplett) and Shenanigans (Deep Gap) jump in with regulars like Happy Hens (Lansing), Moffitt-Toolan (Wilkesboro), and Springhouse Farm (Vilas) in offering their eggs. "We're lucky our farms provide us with such a nutrient-dense food," applauds Hub Manager Taylor Campbell.
Thinking Like An Egghead
In Lessons in Chemistry (Barnes & Noble's charmingly briny 2022 Book of the Year), cooking show host Elizabeth Zott instructs her Snoopy-cool German Shepherd, named Six-Thirty, "Never crack eggs on the side of a bowl. It increases the chance of shell fragments…bring a sharp thin knife down on the egg as if you're cracking a whip. See?" We're unsure if Six-Thirty, who otherwise offers caring insights throughout the novel, appreciates this tip, but we do, so here are a few more eggy ideas to consider!
Nothing quite replaces fresh cooked eggs—frittatas, benedicts, et al—but think useful copycats for other applications. I swap ricotta for eggs to hold together meatballs, and so as not to waste a whole egg, I use those just-enough, teeny quail eggs, or a brush of milk for an egg wash. My pasta carbonara employs heavy cream for the eggs, with the bacon and Parm maintaining the dish's hallmark flavor and texture.
Boone's eightpointfive prepared-foods Chef/Owner Ross Aglialoro looks to vegan techniques for egg-less cooking, such as a blend of flax seeds and water as a binder; same with applesauce. He uses the liquid from chickpea cans (aquafaba) to whip up egg whites and create ice cream. "Think oils, like sunflower, for egg emulsification," instructs the chef, who's also kitchen manager of Boone's F.A.R.M. Cafe.
A fun riff on egg substitutes was widely reported recently when a man stole 200,000 chocolate Cadbury-brand eggs that police dubbed "an eggstravagant theft," according to The New York Times. So, it popped in my head that Boone fine-artisan chocolatier Beth Westfall (Westfall Chocolates at Food Hub and Peabody's Wine and Beer) could create chocolate eggs for a convenient, egg-less 'egg' dessert!
It's hard to argue against the egg's perfection since new life comes from an egg. Around forever, there are always futures in eggs as Zora Neale Hurston suggests. So don't put all your eggs in one basket—a rally in the markets may yield you double yolks, proving eggs are indeed all they're cracked up to be!
Gail Greco is author of Tea Time Journeys and Tea-Time at the Inn. Her newest cookbook, Afternoon Tea is the New Happy Hour, is now available at online bookstores.
Return to Featured Content on the Home Page >>
---

From the CML Kitchen
By Meagan Goheen
Strawberry Cream Cheese Stuffed French Toast
INGREDIENTS
1 loaf challah bread
4 large eggs
1 cup whole milk
½ cup heavy cream
1 TBSP honey
¼ tsp ground cinnamon
1 tsp vanilla extract
¼ tsp salt
4 TBSP butter
strawberry cream cheese filling
¼ cup heavy cream
8 oz cream cheese (softened)
3 TBSP honey
1 cup of strawberries, small diced
Directions:
1.Make the strawberry cream cheese filling:
To a medium size bowl add the softened cream cheese, heavy cream and honey and beat with an electric mixer on high until light and fluffy. Gently fold in the strawberries until combined.
2. Make the custard:
In a large pan whisk together the eggs, milk, cream, honey, vanilla, cinnamon and salt until well combined.
3. Cut the challah loaf into thick slices, about 1 ½ inches (6 slices total).
4. On the top of each slice of bread carefully slice a pocket without cutting all the way through.
5. Fill the pocket with the cream cheese mixture without overstuffing it.
6. Soak the filled bread slices in the custard mixture for about 5 minutes turning halfway through.
7. Heat 2 tablespoons of butter in a griddle over medium heat. Cook for about 3 minutes each side, or until golden brown. Work in batches to not overcrowd your pan.
8. Serve warm with maple syrup, sliced strawberries and a dust of confectioners sugar (optional).