---
Food & Beverage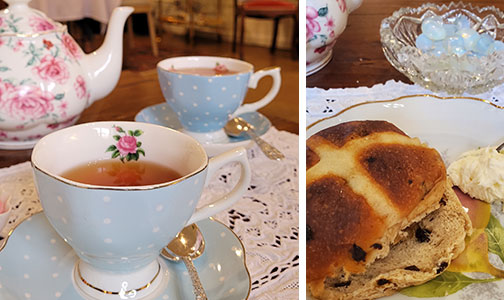 Fit to a Tea All Winter Long
Story and Photos by Gail Greco
The wind whirs across the ridge and I think I see the bejeweled wings of a departing Indigo Bunting flash my window, or maybe it was the steely blue neck of a Blowing Rock barn swallow. I doubt it was a mirage in the sky. The heavens are not azure today, but a soft beige-gray, the multigrain shade of my fave sourdough bread from Stick Boy bakery in Boone that I'm pressing into an applewood-smoked bacon and caramelized-onion panini for lunch. Cicadas are past their months-long mating cacophony, eclipsed by a wintry 'silence' I'm hearing through the leafless trees. I'm also feeling something—cold—so I gather leaves—the brewing kind—bound for a whistling tea kettle. There's only one thing to do to balance cold-weather sensitivities. Have a cup of hot tea!
It wouldn't be hard to find someone eager to join me. Tea is continually ranked as the most consumed beverage in the world. From 'whole' leaf loose teas to crushed herbs, or so-called 'tea dust' teabags, tea is widely accessible and affordable to all, and with unlimited choices, there's something for every taste.
Tea, with its naturally occurring amino acids, lifts melancholy moods, releasing energy slowly without a caffeine crash, just one of many reasons it's so desired. Buddhist Priest Eisai, who brought tea to Japan in the 12th century, summed it up this way: "Tea has the ability to make one's life more full and complete."
Traditional teas (black, green, oolong, white, pu-erh) are from the Camellia sinensis plant, but taste different depending on how they are harvested, cured and processed. Today though, also under the heading of what is tea, are beverages steeped in hot water with dried botanicals and other earthy ingredients.
Tea-riffic Places to Tea Off
The High Country has many places to buy packaged or grab-and-go teas, including at coffee shops like Kovu's, where they whisk Matcha tea and whip up chai tea lattes in their cozy cafe rooms in Boone. A charming wood-shed cafe at The Lavender House in Valle Crucis serves hot teas beginning in spring, brewed with herbs from their garden. A dedicated tea truck, BobaBing, at 626 NC Highway 105 Bypass in Boone, offers the wildly popular bubble tea, of black or green tea and cassava tapioca pearls.
A sensual experience greets shoppers at The Spice & Tea Exchange in West Jefferson and Blowing Rock. Aromatherapy scents of baking bread, toasting muffins, and musky burning pine drift from some 90 tea blends, hand-scooped by weight. Winter comfort teas have arrived, including: Warm Bread Pudding, Red Hot Toddy, and for winter ailment woes there's Honeybee Ginger Elixir Tea.
At Banner Elk Cafe and Lodge, an Earl Grey caramel latte is served with gourmet flavors such as African Solstice or Raspberry Nectar. It's a full tea menu that many restaurants are now adopting in response to a public reportedly no longer wanting just one or two tea options when dining out.
Steep Thoughts at a Mountain Tea Room
Tucked into the shadow of Grandfather Mountain in Foscoe is a distinctive British-inspired cafe, the Appalachian Apothekary and Tea Room. Tea-goers are pampered at linen-topped tables with crust-less tea sandwiches, fruity scones, petit fours, biscuits, buns, and cakes. A tea-of-the-day is blended by Anne Whitton-Bolyea, who opened the tea room last spring; and already it can be hard to get a reservation.
The tea room boasts more than 30 hand-crafted teas, such as Banana Waffle, White Strawberry Basil, and Tea of Love! Don't leave the tea room without a sack of cold-weather-busting Banner Elk Winter Tea made with rose hips, or the tea room's creamy App State Football Tea with a spicy kick!
Tea guests can spend up to two hours here, as I have a few times, taking a pause to live in the moment with a little less control, and feeling good about that escape, thanks to my time-out with tea and, as Bolyea adds, "the fellowship that it all brings." A 1992 religion and philosophy graduate of App State, it's how she defines the tea room, which also includes museum-quality crystal rocks, mixed tinctures, and soothing healing oils. Bolyea guides shoppers as an apothecary of sorts (with a k) and that is symbiotic with the tea room in a way. Holding a crystal, for instance, is not unlike holding a cup of tea in how they both evoke contemplation.
If Teacups Could Talk …
… and they do, with functional teas like Locally Good Farm's Mama-To-Be Tea (in Burnsville, and at the High Country Food Hub in Boone); The Lavender House's Tummy Ease and Joy in a Cup Tea of rose petals, mint, lavender, and other flavors, available in winter at Hatchet Coffee, Stickboy and Wildwood Market (all in Boone); and Devorah Chocolate's Cacao Tea (in Boone, and at the High Country Food Hub).
Medicinal herbal teas offer health benefits such as flavonoids that claim to fight inflammation and buoy the immune system. The antioxidant-rich Yerba Maté teas combat depression and anxiety, and may be mixed with fruit juices in cans like Enlighten Mint and Bluephoria—big sellers at Earth Fare in Boone. Kombucha tea is available from Boone Booch, a craft Kombucha maker in Deep Gap that makes this popular fermented tea with a refreshing and effervescent zing from holy basil, elderberry, and ginger.
The choice of how to drink tea goes from pinky-pointer china cups to insulated thermoses, depending on need, such as in winter, when a thick pottery or ceramic mug might be caressed to warm chilly hands. One such that goes the distance is the Handwarmer Mug from Mast General Store (Boone and Valle Crucis); it hugs fingers and palm like a mitten when a hand is slipped into a left or right molded pocket. Every tea-lover needs one of these!
The Land of Milk and Honey
Tea connoisseurs spout this adapted Bible phrase referring to how tea's acidity is assuaged with add-ins: milk, honey, sweeteners. It's also the name of a family livestock farm in Deep Gap, supplying honey and baked goods including vanilla/chocolate swirled marshmallows (at Food Hub) that melt in hot tea. Be Natural Market in Boone has ginger or date syrups for only a hint of sweet. If you add milk, Cheek Farmstead Creamery (produced in Ashe County) has an option for cream-top milk, also at Be Natural, Food Hub, and J&M Produce. This, or any whole milk added to tea, is delicious frothed.
Fun sugars are at The Spice & Tea Exchange: Rose, Salted Caramel, Mango Habanero. If lemon with sugar is how you like your tea, spoon in the Lemon Sugar. If you wish tea tasted like coffee, it does when you stir in their Roasted (real bean) Espresso Sugar. The Exchange is also blending tea leaves with wine-grape skins for a Blackberry Bordeaux Tea. According to Pinterest's 2022 world-wide user poll, teas like this one—mixed as a mocktail or cocktail—are now looming large on bar menus for happy hour gatherings. But no matter where or when tea-time strikes your fancy, it's always a happy hour—or two!
Gail Greco is author of Tea Time Journeys and Tea-Time at the Inn. Her newest cookbook, Afternoon Tea is the New Happy Hour, is pre-ordering on Amazon for release this April.
Return to Featured Content on the Home Page >>
---

From the CML Kitchen
By Meagan Goheen
Louise Hatch's Molasses Cookies
INGREDIENTS
¾ cup sugar, plus ¼ cup additional to roll
1 ½ sticks unsalted butter, softened
1 large egg
¼ cup molasses
2 cups all-purpose flour
2 tsp baking soda
½ tsp salt
1 TBSP ground allspice
1 tsp cinnamon
1 tsp black pepper
Directions:
Preheat oven to 350 degrees.
Cream sugar and butter until fluffy.
Beat in egg and molasses.
In a medium sized bowl sift to combine dry ingredients. Add to dough and mix well.
Form into 1-inch balls—roll in sugar. Place 2 inches apart on ungreased cookie sheet.
Bake 12-15 minutes or until set.
"The molasses cookies have black pepper and it's such an awesome kick. Most folks wouldn't guess that secret. Louise Hatch lived next door. We went sledding in their backyard and she watched us from her kitchen and would give us warm treats." – Sallie Hart Williams, Joan's daughter